Fan Art/Indominus
This is the dossier of the Indominus Rex: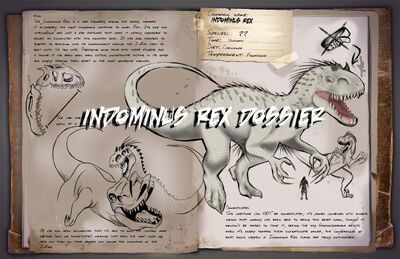 This is the King Of the carnivorous the size of this Creature is 12 M and is weight is 1285 Kg and he is a Giant Hybrid he hunts Trikes Stegos And Brontos and Rex and Spinos And Giganotos. the Indominus Rex he is the Biggest Creature Of Ark Survival Evolved. you can not domesticate Is Hard Very Hard Domesticate This Creature. As the Dossier says you can't tame it in the wild unless you use the console commands.
There is a mod Of this Creature. Under You Have A link Of the Mod. this is the summon Summon Indominus_Character_Bp_C and this is the Tamed SummonTamed Indominus_Character_Bp_C.
https://steamcommunity.com/sharedfiles/filedetails/?id=729352919
https://steamcommunity.com/sharedfiles/filedetails/?id=1445395055
https://steamcommunity.com/sharedfiles/filedetails/?id=1122524327